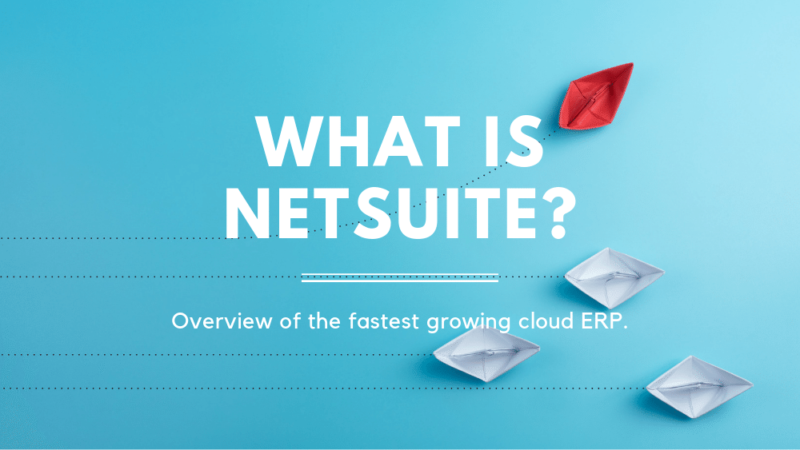 ERP Context
Every firm, no matter the size, geography, or the industry, faces many challenges, which typically differ quite a lot. Some of them relate directly to core activities, such as sales, project management, research, and development. Most are caused by a lack of right resources – correct skills, fine-tuned processes, or tools that enforce both.
The largest organizations have already started adopting a company-wide tool called ERP, that stands for Enterprise Resources Planning. In a nutshell, it is a software that allows efficient management of an organism, by enforcing a set of policies and process applied onto various roles. I will cover ERP subject in a separate article soon.
Historically only the most significant organizations recognized a need to implement such software and were wealthy enough to afford large, bulky on-premise systems such as SAP or E-Business Suite. They characterized by a necessity to maintain not only the software implementation and support. Such a solution required expensive data centers with hardware, utilities, and additional staff alongside them.
The Promise of the Cloud
The popularization of the Internet in the late '90s and '00s brought a drastic change to the landscape of client-server applications. Businesses across the board started realizing that they do not have to pay hefty amounts of money for usage of the software. Instead, they started leaning towards software provided as a service rather than a product. A soft drinks distributor is not paid for IT services but rather sales of sodas, isn't it?
A wave of the business model change brought first companies that provided its products out of large, centrally maintained by themselves data centers. NetSuite, subject of this short brief, and Salesforce, a widely known CRM provider, were the first two cloud companies ever erected.
Benefits of the cloud computing model are many, and that will require a separate page. However, many recognize it as superior to an on-premise model for its flexibility, cost efficiency, and ease of set up. Let the reality speak for itself though – who has heard of a recently set up software company that provides on-premise solution…?
What is NetSuite?
There is definitely a lot to say about a company that has twenty years of history. To make things easier, let me quote one of the press releases about NetSuite that sums up well in a fact-based manner (I allowed myself to cut out the opinions ;)).
"NetSuite is the #1 Cloud ERP. NetSuite helps companies manage core business processes with a single, fully integrated system covering ERP/financials, CRM, e-commerce, order and inventory management, and more. On November 7, 2016, Oracle's acquisition of NetSuite became official, making NetSuite a wholly owned subsidiary of Oracle Corporation. (…)
Today, headquartered in Silicon Valley, NetSuite has nearly 7,000 employees across more than 25 offices throughout North America, Europe, Asia, South America, and Australia. Oracle has over 136,000 employees worldwide, all of whom are dedicated to providing a complete business offering that includes integrated, award-winning support services combined with industry-leading products.
More than 16,000 companies use NetSuite to run more effectively without the high costs and inefficiency of on-premise systems. (…) NetSuite also offers industry-specific solutions for professional services, software, wholesale distribution, manufacturing, and retail. NetSuite OneWorld helps global, multi-company organizations manage subsidiaries better with robust multinational, multi-currency support."
NetSuite Facts and Figures
There is nothing better than bunch of figures to reflect on the actual results. Take a look at them as a continuation of the overview. The figures are pretty impressive and the truth is that they will only improve, as the expansion to markets of Europe, Middle East and Asia will continue.
203 countries and dependent territories deployed
24 user interface (UI) languages
100+ countries tax calculation and reporting
200+ countries and dependent territories transacted
90+ bank payment formats
190+ currencies updated daily
80%+ transactional activity outside of the US
99% of customers transact in multiple currencies
51% of customers transact in multiple currencies
57 countries operated by a single customer
161 of currencies used by a single customer
557 subsidiaries owned by a single customer
Modularity of NetSuite
Let me put it out there – NetSuite is a highly flexible system. Does that mean you should tweak all the features around? Definitely no. Fewer changes mean less hassle and unknowns. It is like reinventing the wheel. You don't want to change its shape and instead, put on it a tire that will be well adjusted to the surface.
Modules in NetSuite are like tires. You can add them to the top of the wheel as you need them. While a core of any NetSuite system is its' ERP, it can be further extended by a variety of functionalities (for example Advanced Financials or Manufacturing). Such an approach makes sure of two things:
A competitive price, a customer, only buys what he needs;
Single data source, as all modules run on the same database.
While the first point is pretty straightforward (although you will find some counterarguments on the Internet, which I'm happy to debate with), the second one is very often underappreciated by the customers, especially those without a technical background.
Before we go the aspect of the single data source, let me highlight one thing. Modularity can also be quite complex to comprehend at first. There are core modules, additional ones, industry suites, sandbox. That can get quite confusing, so make sure you understand the licensing model before you decide to subscribe. We all want to avoid disappointments and unpleasant surprise.
You may want to take a look at the NetSuite Buyer's Guide which we prepared. It covers licensing rules and briefly talks about all different modules available.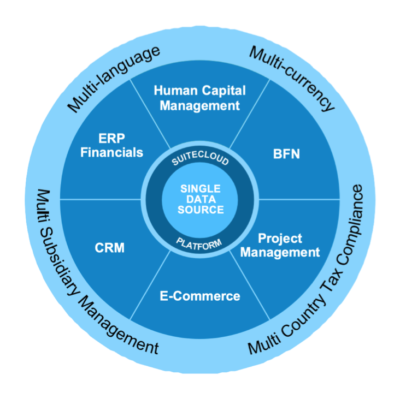 Single Data Source
Many solutions build their solutions around 'the blocks.' These blocks are very often the pieces of solutions coming from various acquisitions. Some of them may be hosted natively in the cloud, while some of them are just hosted in an on-premise mode in a vendor's data center remotely (there is a difference – that's going to be a subject of another post). These blocks may be integrated, but they will never work entirely seamlessly, as their data is dispersed and were not designed to work together from the ground-up.
Since its inception, NetSuite has been executing its vision of an ERP that covers all business areas of a mid-market player. One of the main assumptions was to create a holy grail of any ERP or analytics solution – a 360-degree view of the business. NetSuite managed to achieve that by building all of its blocks always on a single database. As such, you can slice it and dice it. Assign projects to customers, costs to projects, sales to customers and companies, and expenses associated with transactions. Almost every request like that is an out of the box feature or an option that can be configured without any customization (which means lower implementation risk and lower cost).
Is NetSuite a Right Choice for My Company and Me?
It depends. To be precise, it depends on what your needs are. NetSuite is arguably the best Cloud ERP out there (and definitely in the top of the list). Is any of the objectives listed below your goal?
Establishing of the processes driven, highly automated entity;
Improvement of transparency in the organization;
Strengthening of areas related to the customer, order financial, revenue or support management; or
You are planning on a rapid business or geographical expansion.
If the answer yes to any of above, then high chances are that you will love NetSuite.
Otherwise, if you're only looking at a simple accounting solution that will issue invoices and you don't see your company grow beyond that, then Quickbooks or any solution alike will most likely suffice.
My best advise is that you take a look at the system by yourselves. You can reach out to atstratus consultants to take a look at the demonstration, or simply read through our knowledge center. You will find there dozens of free data sheets and whitepapers to answer some of your questions.