NetSuite provides cloud financials, CRM, ecommerce, HCM and professional services automation management for all organizations from fast-growing midsize companies to enterprises.
According to a study by Gartner "All Software Markets Worldwide, 2015" NetSuite is the fastest growing Financial Management System on the Globe.
Book free NetSuite consultations now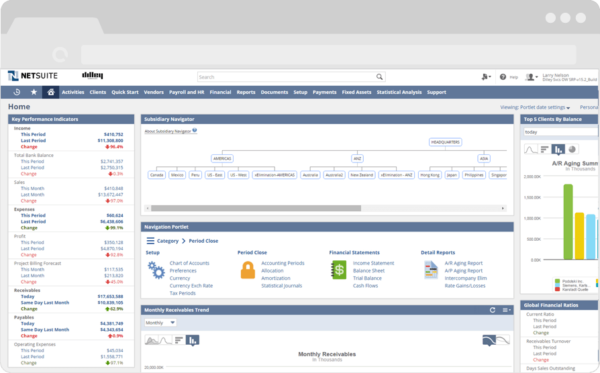 NetSuite ERP
It is the most robust solution available in the market, which made it the most deployed Cloud ERP solution worldwide. Its' scalability made it a perfect solution for both small and large businesses, which may be growing at different pace.
Powerful modules vary from accounting software, through production management, supply chain to procurement giving complete freedom of choice.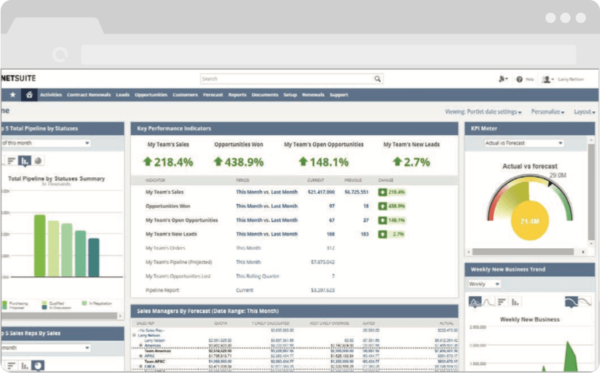 NetSuite CRM
NetSuite CRM offers set of traditional features such as Sales Force Automation, customer service management or marketing automation but in addition to that it manages the sales aspect as well: quotes, order management, commissions and forecasting.
What is also unique it integrates with other NetSuite modules – such as SuiteCommerce – delivering real 360 degree view of the customer lifecycle.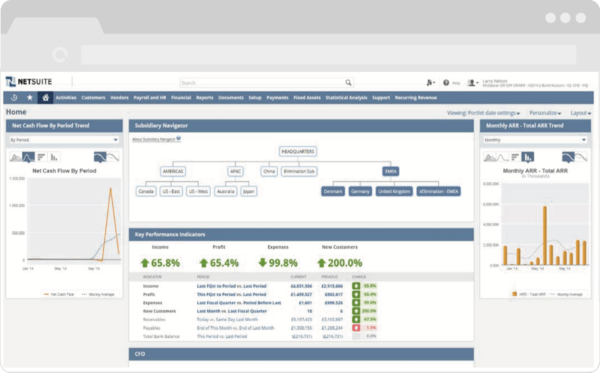 NetSuite OneWorld
Nowadays World will not wait for you and those who cannot keep up will loose the game for markets dominance.
OneWorld delivers ability to manage multi-subsidiary organisations dispersed across geographies, but also languages, currencies and tax regulations. All of this at a fraction of an expensive and stiff on-premise ERP.
NetSuite Professional Services Automation
PSA takes care of every aspect of your project resulting in improved delivery timelines, cashflows, resources utilisation and profitability.
It manages entire bid-to-bill process and as it changes NetSuite has capability to adapt thanks to configurability and extensive capabilities in project management, resource planning, financials, billing and invoicing.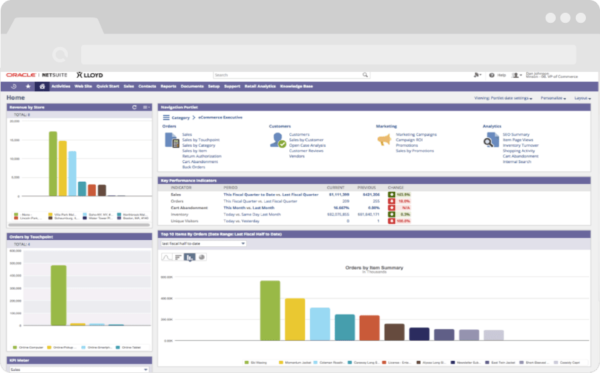 SuiteCommerce
Tens of thousands of businesses are backed by NetSuite since its' visionary inception in 1998. As one of few it integrates with backend processes, providing its' users with holistic process of managing orders from moment of lead creation until billing.
It goes beyond that taking care of production, inventory, point of sale and else. All modules integrated to provide seamless customer journey.
Schedule Free NetSuite Consultation
NetSuite Frequently Asked Questions (FAQs)
Has the system been localized? Is it compatible with the countries' legal regulations and statutory requirements?
admin
2019-09-02T10:36:56+01:00
Growing regulatory challenges, compliance risk, financial penalties and more frequent system-based tax audits is leading to businesses being burdened with ever more complex tax compliance requirements. As the world's #1 global cloud ERP, NetSuite OneWorld's tax and compliance management capabilities provides a robust foundation for transparency, automation, simplicity and controls in the management of your global tax and compliance responsibilities, enabling you to grow your business globally with confidence.
Used in over 110 countries with support for the most widely used languages, NetSuite's 'out-of-the-cloud' comprehensive indirect tax management and reporting capabilities cover over 90% of Global Gross Domestic Product (GDP) ensuring that a business system is ready to handle your international footprint wherever your company operates.
Indirect tax compliance
Mismanagement of tax management processes can result in penalties and interest charges. Whichever way you look at it, the management of indirect taxes is becoming a costly overhead.
Around the globe, indirect tax requirements continue to change frequently and place an increasing burden on businesses, rather than the government, to monitor and report on their compliance responsibilities. Compliance responsibility is a major hidden cost of business operations. A study by PricewaterhouseCoopers found that in many countries on average, it takes a company longer to comply with VAT, than to comply with corporate income tax.
Governments are regularly changing tax rates and laws in an effort to balance their budgets, placing an increasing burden on businesses in the management of the additional tax compliance. Deployed by organizations in over 110 countries, NetSuite can help you address these challenges through:
Transparency—reduces audit risk with an always-on audit trail, access logs for both external and tax auditors and full drill-down from summary tax forms and reports to underlying transactional data demonstrating the source of calculations.
Automation—enables standardized workflow across all international operations with tax calculation occurring as part of standard business processes.
Control—Validation of data entry based on in internal standards and centrally defined configurable approval processes and exception reporting provide confidence in system administration.
Simplicity—single system architecture means no re-keying of transactional or tax data, avoiding common errors and traceability gaps found in traditional point solutions.
Financial and accounting regulations
NetSuite OneWorld is used in more than 110 countries, includes comprehensive indirect tax management and reporting capabilities for some of the most stringent local accounting regulations and gives you the power to go global with confidence. NetSuite OneWorld
Meets accounting regulations across multiple countries including US, UK, Germany, Japan, Australia, Singapore, Hong Kong, China, Malaysia, Thailand and more.
Is accredited by multiple bodies including the American Institute of CPAs (AICPA, the Institute of Chartered Accountants in England and Wales (ICAEW) and in Singapore by IRAS as complying with GST and Audit Files.
Is certified in Germany under IDW AuS 880 and GoBS, Philippines by Philippines Bureau of Internal Revenue, Portugal by DGPC under the Computerized Invoicing software certification (Portugal Decree 363/2010), Japanese J-GAAP compliant and many more.
Configurable tax engine
NetSuite OneWorld has a built-in tax engine that is configurable to your specific business needs.
Out-of-the-Cloud pre-configuration of tax codes and localized reporting for over 50 countries.
Flexible indirect tax engine automates calculation of Canadian HST, Mexican IVA, German Mwst, Philippines VAT, Australian GST, China Golden Tax VAT and more.
Cross border sales and Intrastat reporting across all 27 EU countries, including online capabilities for many countries.
Comprehensive currency management
NetSuite multi-currency management supports 190+ currencies and exchange rates enabling you to do business with both customers and vendors globally as well as a wide variety of payment options. It provides real-time currency conversion and financial consolidation for all your global operations.
Out-of-the-Cloud pre-configuration of tax codes and localized reporting for over 50 countries.
Flexible indirect tax engine automates calculation of Canadian HST, Mexican IVA, German Mwst, Philippines VAT, Australian GST and more.
Cross border sales and Intrastat reporting across all 27 EU countries, including online capabilities for many countries.
Audit and compliance reporting
Electronic audit is now common practice in many countries for both external auditors and Government tax auditors. NetSuite supports audit files formats for SAF-T (all OECD countries), GDPdU (Germany), IAF for Singapore and many more.
Always-on audit trail, built-in analytics, access logs and workflow.
Full drill-down from summary reports to underlying transaction detail provides transparency to aid demonstration of on-going compliance with local statutory and regulatory requirements.
One system architecture simplifies Sarbanes-Oxley (SOX) and similar compliance obligations by helping ensure standardization and consistent reporting across your business operations.
Payment processing
NetSuite Electronic Payments enables you to pay your vendor bills and employee expenses across the globe directly from NetSuite, as well as take payments directly from customers.
NetSuite Electronic Payment Processing puts the payments or direct debits into each bank's predefined file format ready to import into banking software or submit to the bank online, thus lowering payment processing expenses by eliminating checks, postage and envelopes and saving time too.
Comprehensive language management
Translated in over 20 languages including Chinese, Japanese, French, German and many more, NetSuite OneWorld enables each employee to select his or her language of choice.