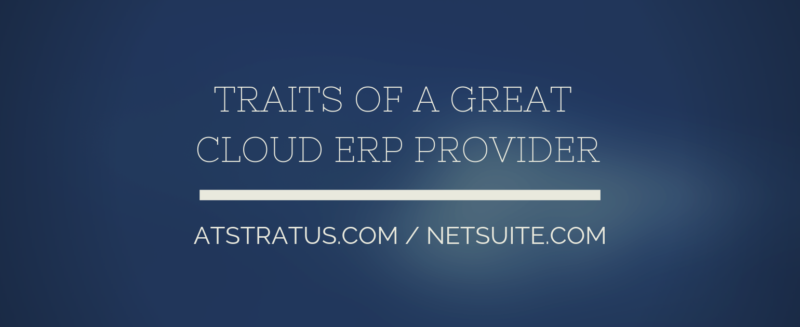 In the market for a good cloud ERP vendor? Because the benefits of migrating your enterprise resource planning system to the cloud are too awesome to ignore, more and more vendors are making themselves available at your service. If you're having trouble deciding who among the vendors you should entrust your business' data and processes to, fear not. This short list of important characteristics will help you narrow down the search to those who can really provide you the kind of service you want and need.
A good NetSuite cloud ERP provider offers a high level of accessibility. A lot of businesses using NetSuite ERP maintain that one of the reasons why they choose to stay with their current provider is because they really make themselves available in a number of ways. Accessibility should be offered via phone or email, and there should be a clear line between you (the concerned client) and them (the right channel who can best deal with your concern). This also includes assigning experts to your account – experts who readily give you their contact details and readily picks up to answer your questions when you have them. When prospecting the best NetSuite ERP implementation partner, make sure you ask about the different ways that you can contact them so you know how much they are willing to be accessible to you.
A reliable NetSuite cloud ERP provider clearly outlines the scope of work it can offer – and what it doesn't. Deploying a NetSuite ERPs system comes with many roles on the end of the provider, so it should be stated in black and white what it will and will not do. This is helpful so you know what other tasks will fall on your shoulders and what the limitations are in terms of expectations on the client. For example, some clients might think that the supply chain aspect of a prospective NetSuite ERP implementation partner might include deployment of product to customers, so they don't arrange for that on their end. Imagine how chaotic it can be if this was made apparent on the day it launches, as you might be left with a roomful of processed yet undelivered parcels!
A good NetSuite ERP vendor offers customization options to tailor fit their services to your needs. Most (if not all) small- and medium-sized businesses will need NetSuite ERP implementation, but not all of them will need the exact same protocols at the same time. Thus, it is imperative that you work with your chosen NetSuite cloud ERP vendor to clearly outline what services your business needs at this time so they can design your software to deliver exactly that. You shouldn't overlook this because it will have a bearing on the final rate that you will be expected to pay.
A solid NetSuite cloud ERP partner future-proofs your systems. While customization is something all small- and medium-sized businesses should expect from their chosen NetSuite ERP implementation partner, it also pays to ask how they will build your software for scalability. You don't expect your business to be at its current level for all time, as you know it will just get better right? The same thing goes for the systems you use to perform your daily operations. Your current NetSuite ERP system should not be a closed one; rather, it should be designed with provisions that allow you to scale up some protocols in the near future – and does it without too much trouble on either end.
A proven NetSuite ERP vendor provides training for employees whenever it is needed. A cloud ERP provider doesn't just leave when the software is in place. It ensures that whoever will be in charge of whatever protocols will know how to perform their role successfully. They should also provider further training and troubleshooting should it be required at any time in the future. When canvassing for the best NetSuite cloud ERP provider, make sure you bring this up. You want to be assured that not only are you getting the best product for your business but you are also going to be given the right training to utilize it to the fullest.